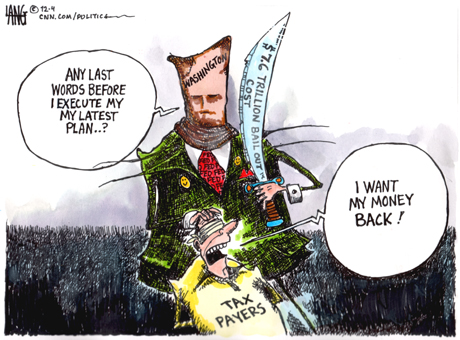 Shutting down government irresponsibly doesn't work. Nor does money printing madness for the wrong reasons.
Former Reagan administration Office of Management and Budget Director David Stockman calls QE "high grade monetary heroin." One day, it'll "kill the patient," he says.
Out-of-control debt isn't resolved by more of it. Adding more leaves less for goods and services. Economies suffer. They're looted for profit. Bankers want state enterprises sold at fire sale prices.
Doing so creates lucrative financing on credit opportunities. The top 1% benefits. Most others are force-fed austerity.
Economies are wrecked for profit. The road to dystopian hell isn't paved with good intentions.
In late 2012, Bank of England official Andrew Haldane said:
"In terms of the loss of incomes and outputs, this is as bad as a world war."
"The rise in government debt has prompted calls for austerity – on the part of those who did not receive the giveaway."
"It would be astonishing if people weren't asking big questions about where finance has gone wrong."
Finance is a new form of warfare. It's more destructive than standing armies. Banking giants run things. Money power has final say.